One of the wonders of framing artwork is being able to see the growth of an artist over time. For half a decade we've worked with Anne Hanley to skillfully float her colorful Batik artworks. It's a pleasure to learn more about an artist like Anne, especially when we can see the passion put into her artistic process. Her artwork and her personality embody the idea of living and working in the process of creation, the evolution of which shows in the precision and intention of her art year after year. Her answers to this month's Artist Spotlight illuminates some of that process and the thought that goes into her art.
How long have you worked with Seaberg and how did you learn about us?
Seaberg Framing and I have been working together for five years. I was new to Chicago, working in a West Loop studio with twelve other artists, and asked for a referral for framing. I was told to go to Seaberg and ask for a woman named Elizabeth. I brought in a few small pieces to her and she was very professional, helpful, and made excellent suggestions. After that, Seaberg Framing became my place in Chicago to have my work framed.
What was the first project we collaborated on with you?
When I first came to Seaberg I was curious to see their view on framing for my work. I think the first collaboration with them was framing my abstracts for a gallery in Cincinnati. The first painting was called Balance; it was bright with bold shapes and the maple-washed frame was a perfect choice as it complimented the art nicely. Since I work in watercolor paint on a rice paper substrate it was very organic to have the paper floating with the neutral frame. That piece sold and so have several others with that frame.
Describe the range of work we've helped with
Seaberg has been framing my original works on paper, which are floated inside the frame. My work is Batik on rice paper. The paper can be fragile and hard to frame so over time I have developed a mounting system, which gives the work more stability and helps with framing. My work has gone from very representational to more abstract. I layer hot wax and watercolor paint until complete then all wax is removed by ironing. The paper is strong and subject to fading. Seaberg's salespeople, Blair and Laura, are extremely helpful and accommodating. I am so grateful for their genuine support suggestions and opinions.  Large or small, the work is well taken care of while at Seaberg and always presents well when I go to my shows.
What drew you toward becoming an artist? What kept you going?
I have always loved the design, color, and drawing and began studying art in high school. I graduated from college in Art and Design and became an art director. After a few years in the business, I decided to stay home and raise my daughters and return to painting. I was studying at the Textile Arts Center in Chicago, located on Diversey Parkway. There I initially painted on fabric and discovered that I could Batik on other surfaces, but I had to find the best paper to accept the wax.  I also began to take all kinds of classes at the Art Institute, Evanston Art Center, the Pallet, and Chisel, and privately to develop my skills and become a better artist.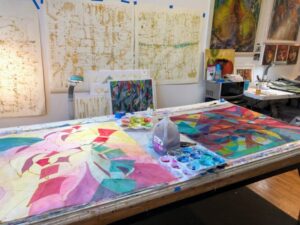 Do you have a specific thematic focus on your art? What would you describe that as?
Growing up in the Chicago area I had the great advantage of spending my childhood vacationing at the Indiana and Michigan Dunes along the shores of beautiful Lake Michigan. Several of my relatives on my mother's side of the family were artists and musicians. One of my mother's brothers, who had a second home in the Indiana Dunes, lived and worked in Chicago as a silversmith.  Vacationing in that environment gave me great inspiration. The color of the Lake, the dune hills, and the tall grasses are memories that are transformed in my work today.
How would you describe your aesthetic? How has your artwork evolved over time, whether in theme, subject, style, or execution?
My medium of layering hot wax can be unforgiving but always surprising, which keeps me constantly inventing. I alternate layers of 400-degree hot wax and watercolor paint on a rice paper substrate. The line cannot be removed. Over the course of twenty years, I am still discovering new things. My representational art has successfully moved in many new directions. I currently have four main series of works. Representational, Abstract, Figures, and now my latest creation, Monoprints.
In 2008, I developed a floral called the Columbine, which I altered from the realistic version. This work won many awards and is today my signature piece. That design is used as the base for all my abstract works today. The image of the columbine is laid down initially before I paint on top of it lending great negative spaces. As I continue to add layers of paint and wax I can see more depth appearing to the forms. Today I have created and sold over fifty columbine original works. The tools I use today are still the original tools but my execution has changed. Style and growth can only happen if you are willing to let go of the old work and welcome the new.
How would you describe your process of working?
My process of working is driving daily from my home to my studio in Bridgeport. I try to always leave work that I've started on my table in the evening to be able to jump back in the next day. I work flat on a large table which allows me to work on multiple pieces and allows for drying time between layers. For larger pieces, I like working on a wall. Viewing work flat is different than viewing it vertically so to produce work on the wall I use different tools than on my table.  There is always a great advantage to stepping back when considering your next move by having your work vertical. I draw with a tjanting tool or brush on 400-degree hot wax and layer watercolor paint until complete. All wax is removed by carefully ironing the paper. When the wax is removed the painting is revealed.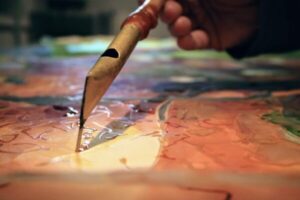 How do you organize yourself?
Organizing myself as an artist has been the key to my development and it stems from how I was raised. My classically trained musical family and mother taught the discipline of practice and schedule. Most artists are working in small spaces so organizing your tools and your supplies is very important to production. You also have to do the work. From mistakes comes invention and from failures comes great works of art. It also helps to utilize those better equipped to help you like social media or framing.
What is your favorite work you've created and why?
My favorite pieces are works that are pivotal for me in that they suddenly steer me in a new direction. Since I love to work in series over time those series start to develop and alter their course unintentionally. When all paintings are laid out together it is fascinating to see the direction of change, but the work is cohesive because it is based on a single shape or idea. Progress is made when the work is repeated over and over again but looks completely different. These are my abstracts based on a single organic shape of the Columbine flower, Columbine with Blue Circle, which I developed in 2008. I layer and separate the shapes working in positive and negative spaces. My strong sense and love of color allow me to add multiple layers of wax and paint. I completely covered the organic shape with abstracted triangles and other geometric sharp-edged shapes in contrast.
Are you currently working on any new projects?
I have several new pieces in my body of work and it's time to show them. I often ask Blair and Laura to help me make decisions and they always have creative and tasteful suggestions.  I am currently working on my Monoprints. We're currently working together on deciding how I'll show my work and anticipating gallery support.
What is your next goal either personal or artistic?
I have two goals to complete. After years of selling my art on my own, I would like to get the support of a gallery. I have a large body of work that has never been shown and I would like the support of a gallery to show them. I would also like to organize a large group show at the Bridgeport Art Center. Over the years I have met some terrific artists and I think a group show is always the most interesting.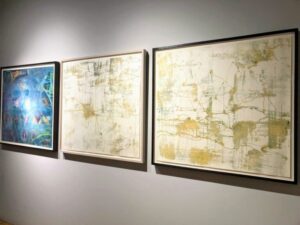 What advice would you give to aspiring artists?
I have in the past been asked to attend a career day at a high school to offer advice as a working artist. My advice is always the same; Do the work. Develop a discipline for work and produce. Create a schedule and an organized environment to return to and start working the next day. One piece leads to another and soon you have a body of work. Do not get too attached to the work, sell it. As an artist, you must leave room to grow and experience change.  Old work gets stagnant and you get unmotivated to create. The creative process needs to have room for experimentation. Make mistakes and you will be amazed where it can take you.